AMERICANGIPSY VOLUME II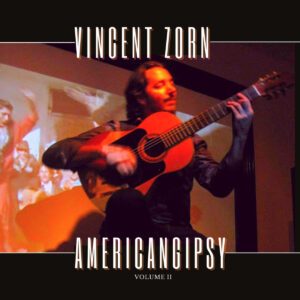 AMERICANGIPSY VOLUME II celebrates composition and collaboration. Ten original songs written and recorded across the United States, coast to coast, with collaborators Vedant Koppera in Santa Barbara, California, Humberto Salles in Charlottesville, Virginia, and Lobo Fink in Lynchburg, Virginia. The goal was to document these great artists together, the quickest way to capture the performance without technology inhibiting the performance. The result is a captivating look at collaboration and composition. Fun and earthy, global yet local.
AMERICANGIPSY VOLUME II
Pure art, recorded simply and performed quickly – verruche e tutto (warts and all).
Classically trained violinist Vedant Koperra appears on three tracks : Gypsy Moon, Baila Gitana Suite 1, and Baila Gitana Suite 2. These three tracks were written and performed in Santa Barbara, California as the duo Vincent & Vedant. Gypsy Moon opens the album with a rhythm bed of violin that soon showcases the marriage of Vincent's guitar and Vedant's violin. As with all of the duos tracks, each song is a journey, and Gypsy Moon really highlights the ebb and flow of the instrumentalists. Baila Gitana Suite 1 & Baila Gitana Suite 2, have a more Eastern European feel, with a  slower pace. Unison violin & guitar at some points, and a percussive rhythm on the guitar give these tracks a great dynamic.
Humberto Salles, of Beleza, is the lead voice on Rumba Del Maguey. Written as an art project for a local bistro where the duo performs weekly. Two bottles of Del Maguey mezcal were given to the artists to write and record a piece based on the the maker. The lyrics "Para todo mal, mezcal y para todo bien, tambien" translate to "For everything bad, mezcal.  For everything good, mezcal." Salles arpeggiated melody backed by Zorn's percussive rhythm makes for a fun tune that really captures the essence of the elixir. A real celebration of Mezcal – If you drink too much mezcal, they don't say you are drunk; they say you are "closer to god".
Lobo Fink of International guitar duo Willie & Lobo appears on two tracks : Make Rumba Great Again, and Viva La Cruz. Recorded in a historic home in Lynchburg, Virginia, these two tracks were created on the spot, one take, with both players completely in the moment. A joke on Trump's presidential slogan, we believe that rumba was, and is, always great. Lobo's into captures the levity of the players, and the spirit of the music. Viva La Cruz is a celebration of La Cruz de Huanacaxtle, a small Mexican fishing village situated on the Pacific Ocean's Bahía de Banderas in the state of Nayarit. A music mecca, and home to Lobo for over 25 years.
Vincent Zorn is a Charlottesville, Virginia based Rumba Flamenca guitarist. "With 11 albums to his credit, Vincent's profound guitar work unites the fire of Flamenco, the sophistication of Jazz, and the relaxed sensuality of Bossa Nova together into a rich musical experience. His sound has been likened to artists such as Ottmar Liebert, Gipsy Kings, and legendary Manitas De Plata.
Adding four new compositions : Enciende Las Luces, Gipsy Joy, Gipsy Rumba, & Gipsy Moro to the album, Vincent's all original, earthy style showcases the power of the flamenco guitar. Sometimes the simplest art is the best, and the true tone of the guitar is all that is needed on these tracks. Gipsy Joy is an upbeat rumba with a joyful bounce. Gipsy Rumba showcases the percussive playing with a strong melody – super fun. Gipsy Moro explores the Moorish side of Flamenco and Gipsy music with a deeper feeling and a nod to Manitas De Plata, grandfather to the Gipsy Kings.
AMERICANGIPSY VOLUME II is the second release by Vincent Zorn showcasing over 20 years of music and eleven albums.