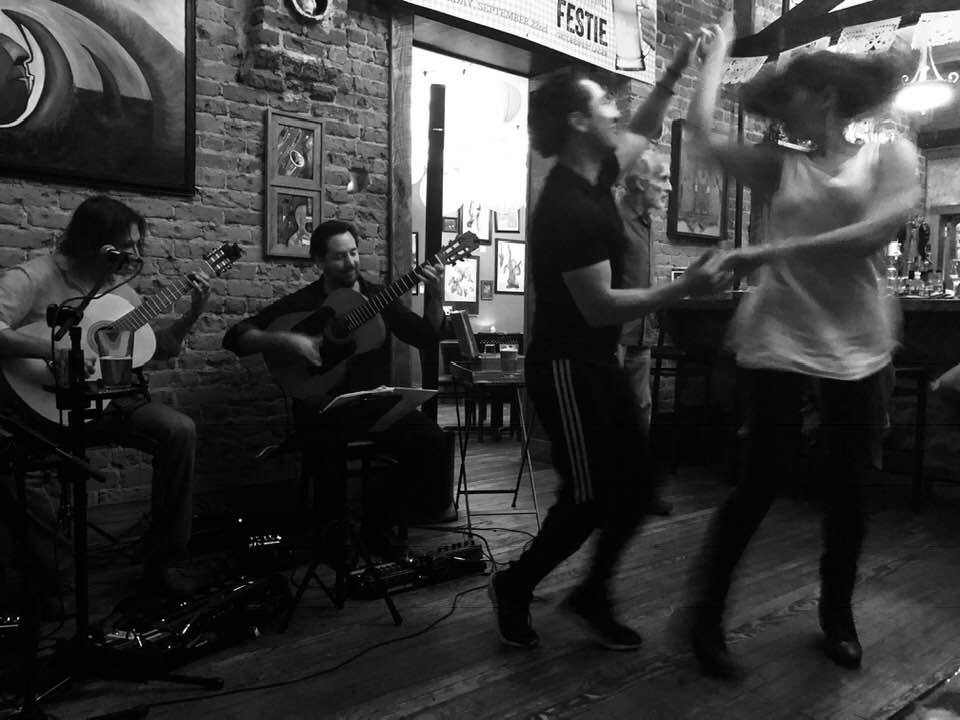 Blending wild Gypsy Rumba guitars with Latin & Cuban influences, Berto & Vincent have been wowing audiences with their untamed style.
From the flying fingers of Berto o Sales, to Vincent Zorn's percussive rhythm, these two seasoned musicians are making a mark with their uplifting performances.
Performing every Thursday at The Bebedero
VINCENT ZORN
With ten albums to his credit, Vincent's profound guitar work unites the fire of Flamenco, the sophistication of Jazz, and the relaxed sensuality of Bossa Nova together into a rich musical experience. His sound has been likened to Nouveau Flamenco artists such as Ottmar Liebert, rumba super-group The Gipsy Kings, and legendary flamenco guitarist Manitas De Plata. Vincent has studied in Spain, Turkey, and most recently in Mexico with International Recording Artists The Blonde Gypsies : Latcho & Andrea www.latchoandrea.com.
Drawing influence from the gypsies of Southern France, he developed his unique percussive technique that utilizes a diverse array of strumming styles, rhythms, and taps.
As a founder and composer of flamenco-dance band Last Caravan, gypsy guitar/violin duo Vincent & Vedant, he has toured extensively and now resides in Charlottesville, Virginia where he performs weekly as Berto & Vincent
Vincent uses Jose Luis Diaz Reyes Flamenco Guitars & Daniel Mari Strings exclusively.
BERTO O SALES
Born and raised in Salvador, Bahia, Brazil; Humberto Oliveira Sales brings passion, energy, and virtuosic expression to his guitar playing. Weaving through genres, including a multitude of Brazilian rhythms, Cuban Son and Spanish Flamenco; he transports his audience to other worlds through sound.
I have seen Vincent play several times and he is absolutely amazing and so talented! If you have a chance, I would highly recommend attending one of the several venues he plays at frequently.
Richard Kelley
2022-05-18
INCREDIBLE TALENT! Fingers fly! Feet cant't stay still! Love the sound quality he demands from his instrument...
Michael Alechko
2022-05-18
Amazing Master Guitarist! Always upbeat with a great big smile!
100/10 Vincent is an amazing and extremely talented performer. My boyfriend and I love seeing his shows and are always smiling ear to ear the entire performance. By far, he is our favorite artist to see live. He is so engaging with his audience. He is always smiling and you can feel his positive energy. You can tell he is having a great time when performing which transfers to his audience in addition to the pure talent he has. Not only is he an amazing guitarist and singer but I have the privilege of knowing him and his family personally and they could not be more wonderful human beings. As a bonus he and his phenomenal wife are raising the most amazing and kind children. Do yourself and everyone you love a favor and take them to see Vincent live or follow him on Spotify etc. Wonderful artist, fantastic performance, and amazing person. I could not recommend him enough. Cheers!
Vincent is an incredibly talented musician and Charlottesville is very fortunate to have him! I created a Spotify playlist of Spanish guitar music and the majority of the pieces are performed by Vincent!
Christina Lemus
2022-05-17
Beto and Vincent were the musicians for our intimate wedding reception and we were SO impressed! They are incredible musicians, super professional and fun. We had such a great time that we ended up having them stay another two hours! We will definitely hire them again for any event and we always make a point of going to see them whenever we can when they play local spots.
Brenda Benfield
2021-03-14
Omg. The best guitarist!! Talented. Enjoyed listening to him play at The Beledera