Rumba del Maguey
Completely inspired by the Minero — Santa Catarina Minas, "Rumba del Maguey" is an auditory example of this fine mezcal.
Upon tasting, you immediately notice a nose full of flower essence, vanilla and figs with a burnt honey flavor and a bit of lemon. Minero is deep and warm, sweet all the way to the finish.
The chorus "para todo mal mezcal y para todo bien, para todo mal mezcal y para todo bien también" was taken directly from the bottle's label and translates in English to  "For everything bad, mezcal.  For everything good, mezcal!"
Rumba del Maguey
Berto & Vincent
Blending wild Gypsy Rumba guitars with Latin & Cuban influences, Berto & Vincent have been wowing audiences with their untamed style.
From the flying fingers of Berto o Sales, to Vincent Zorn's percussive rhythm, these two seasoned musicians are making a mark with their uplifting performances.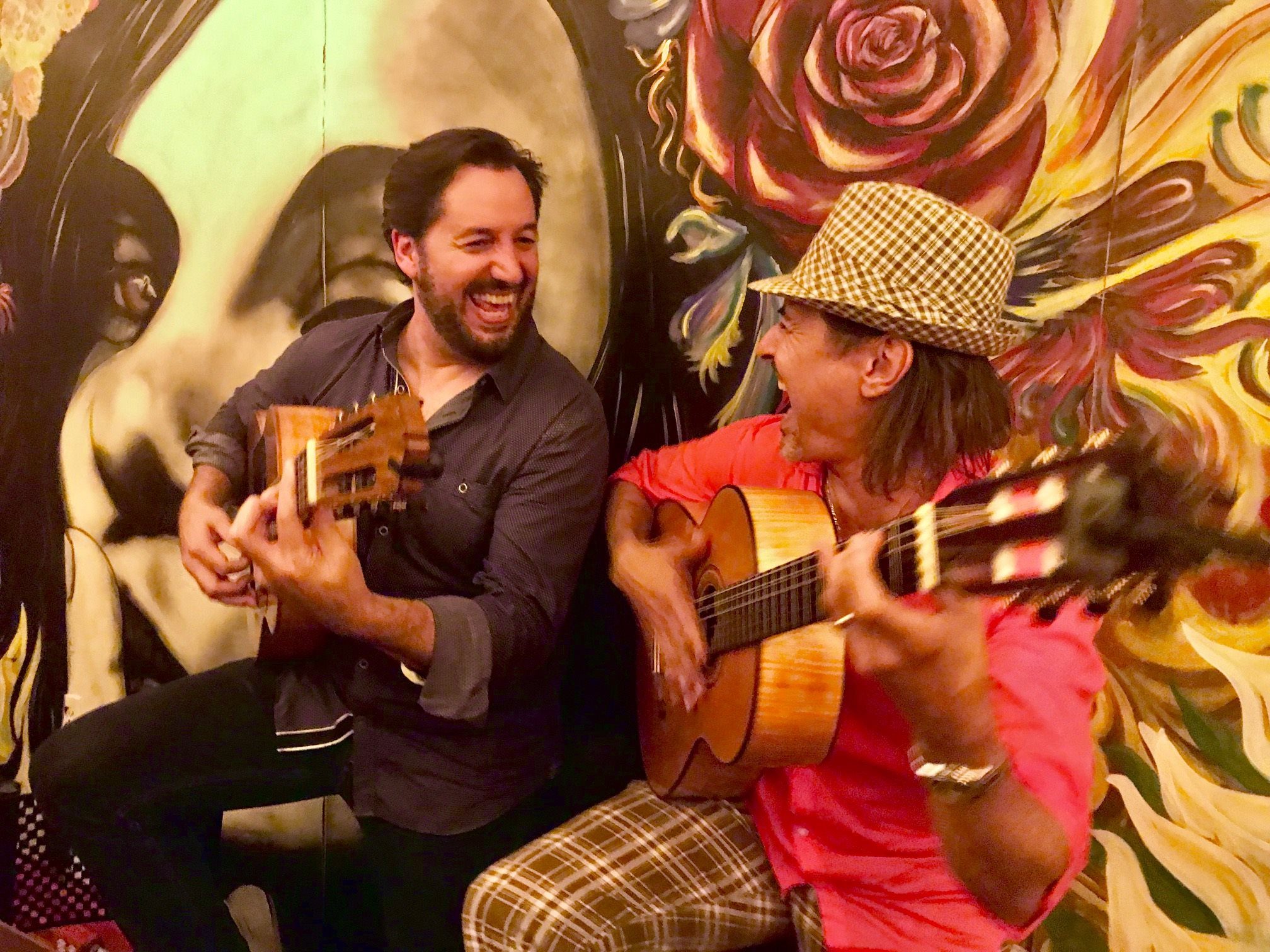 I have seen Vincent play several times and he is absolutely amazing and so talented! If you have a chance, I would highly recommend attending one of the several venues he plays at frequently.
Richard Kelley
2022-05-18
INCREDIBLE TALENT! Fingers fly! Feet cant't stay still! Love the sound quality he demands from his instrument...
Michael Alechko
2022-05-18
Amazing Master Guitarist! Always upbeat with a great big smile!
100/10 Vincent is an amazing and extremely talented performer. My boyfriend and I love seeing his shows and are always smiling ear to ear the entire performance. By far, he is our favorite artist to see live. He is so engaging with his audience. He is always smiling and you can feel his positive energy. You can tell he is having a great time when performing which transfers to his audience in addition to the pure talent he has. Not only is he an amazing guitarist and singer but I have the privilege of knowing him and his family personally and they could not be more wonderful human beings. As a bonus he and his phenomenal wife are raising the most amazing and kind children. Do yourself and everyone you love a favor and take them to see Vincent live or follow him on Spotify etc. Wonderful artist, fantastic performance, and amazing person. I could not recommend him enough. Cheers!
Vincent is an incredibly talented musician and Charlottesville is very fortunate to have him! I created a Spotify playlist of Spanish guitar music and the majority of the pieces are performed by Vincent!
Christina Lemus
2022-05-17
Beto and Vincent were the musicians for our intimate wedding reception and we were SO impressed! They are incredible musicians, super professional and fun. We had such a great time that we ended up having them stay another two hours! We will definitely hire them again for any event and we always make a point of going to see them whenever we can when they play local spots.
Brenda Benfield
2021-03-14
Omg. The best guitarist!! Talented. Enjoyed listening to him play at The Beledera
cristhian hernandez
2018-05-13